Meat Substitutes Market Trends, Business Strategies, Regional Outlook, Challenges and Forecasts 2021-2030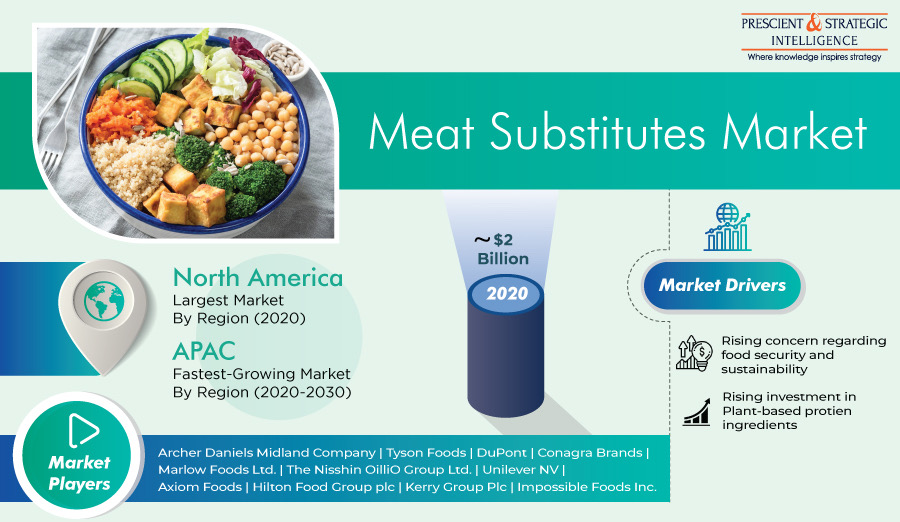 Geographically, North America accounted for the major share in meat substitutes market in 2020, followed by Europe and Asia-Pacific.
Factors such as the increasing concerns about food nutrition, security, and sustainability and mounting investments in plant-based protein sources will drive the meat substitutes market growth during the forecast period (2021–2023). According to P&S Intelligence, the market generated ~$2 billion in revenue in 2020. At present, the surging consumer preference for vegan diets has become a prominent market trend, owing to the growing public awareness of healthy eating habits, hygienic food, and weight management.
One of the key growth drivers of the market is the mounting concerns being raised over food security, nutrition, and sustainability. Food security refers to the state of having reliable access to a substantial quantity of nutritious and affordable food. As per the Climate Change and Land report of the United Nations (UN), food security may be compromised unless there is a transition away from red meat and animal protein sources, such as dairy products, eggs, and pigs to plant-based foods, such as legumes, fruits, and vegetables, which emit lower amounts of greenhouse gases (GHGs) than red meat over their lifetime.
Request for sample pages of this report: https://www.psmarketresearch.com/market-analysis/meat-substitutes-market/report-sample
In recent years, companies operating in the meat substitutes market have been introducing new products according to regional preferences. For instance, in June 2019, DuPont de Nemours Inc. launched a new egg white replacement system for plant-based meat alternatives. Similarly, in July 2020, the company introduced a new range of products under the Danisco Planit brand, which includes plant proteins, enzymes, cultures, hydrocolloids, fibers, probiotics, natural extracts, antioxidants, and emulsifiers. The company focused on nutrition, taste, sustainability, and texture when developing this portfolio.
The source segment of the meat substitutes market is classified into pea protein, soy protein, and wheat protein. Under this segment, the soy protein category is expected to generate the highest revenue throughout the forecast period, as soy-based products are rich sources of protein and they resemble the color and texture of meat products. Such products can be used in different recipes and can absorb rich flavors from other food products in a better manner.
Globally, the North American meat substitutes market is expected to generate the highest revenue during the forecast period, due to the rising customer preference for meat alternatives derived from plant-based ingredients and escalating health awareness among the populace of the region. As per the Academy of Nutrition and Dietetics, vegans are less likely to develop cancer, heart disease, high blood pressure, and diabetes than meat-eaters. Moreover, the weight of vegans is nearly 20 pounds less than meat-eaters.
Browse full report at: https://www.psmarketresearch.com/market-analysis/meat-substitutes-market
Whereas, the Asia-Pacific (APAC) region is expected to demonstrate the fastest growth in the meat substitutes market during the forecast period. This can be primarily attributed to the surging food consumption in the region, owing to the growing population and mounting awareness about healthy diets, such as vegetarian and vegan diets. According to the United Nations Population Fund (UNFP), APAC is home to approximately 4.3 billion people and two of the most populous countries in the world— India and China.
Therefore, the rising concerns regarding food nutrition, sustainability, and security and increasing shift toward vegan diets will catalyze the market growth in the forthcoming years.
Market Size Breakdown by Segments
Based on Source
Soy Protein
Wheat Protein
Pea Protein
Based on Type
Concentrates
Isolates
Textured
Based on Product
Geographical Analysis
North America
Europe

Germany
France
U.K.
Italy
Spain

Asia-Pacific

Japan
China
India
Australia
South Korea

Latin America
Middle East and Africa

Saudi Arabia
South Africa
Market Segment Analysis of Countries
Further breakdown of 16 listed countries will be provided as per below segmentation:

By source
By type
By product
Browse Other Related Reports
Baby Food Market – Across the globe, the Asia-Pacific region generated the highest revenue in the baby food market in 2020 and it is predicted to be the fastest growing region during the forecast period as well.
Plant-Based Protein Market – From $11,104.3 million in 2020, the global plant-based protein market value is predicted to rise to $26,721.3 million by 2030, at a 9.2% CAGR between 2020 and 2030.
Media Contact
Company Name: P&S Intelligence
Contact Person: Abhishek
Email: Send Email
Phone: +918887787886
Address:Noida Sector 2
City: Noida
State: UP
Country: India
Website: https://www.psmarketresearch.com/market-analysis/meat-substitutes-market