Industrial Enzymes Market Rising Trends, Growing Demand and Business Outlook 2021 to 2030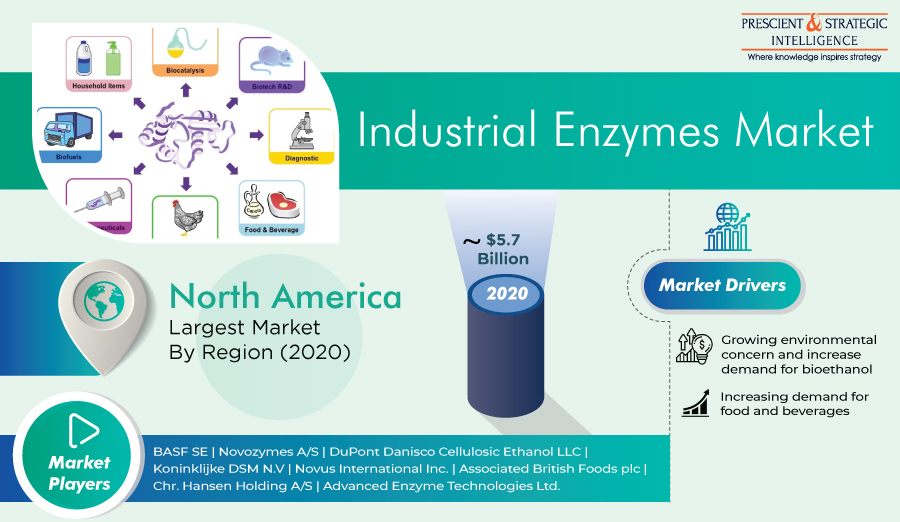 Geographically, North America held the dominating share in the market for industrial enzymes in 2020.
A number of factors, such as the surging environmental concerns, escalating demand for protease and carbohydrase in the food and beverages industry, booming demand for bioethanol, rising focus on research and development (R&D), accelerating industrialization, and increasing advancements in the nutraceutical sector will drive the industrial enzymes market growth during the forecast period (2021–2030). According to P&S Intelligence, the market generated revenue of $5.7 billion in 2020. Moreover, the advancements in enzyme engineering and green chemistry and introduction of genetically engineered enzymes will facilitate the market growth.
One of the key drivers for the market is the burgeoning demand for bioethanol owing to the rising environmental concerns and depleting fossil fuel reserves. Ethanol derived from biomass can be utilized as an octane enhancer, substitute, and extender for conventional motor fuels, such as kerosene, diesel, and gasoline, in countries with surplus agricultural produce. Additionally, biofuels can be used as a substitute for toxic oxygenates in petroleum fuels, owing to which there will be a rapid surge in the production of biogas and biodiesel and a significant reduction in air pollution levels.
Request for sample pages of this report: https://www.psmarketresearch.com/market-analysis/industrial-enzymes-market/report-sample
In recent years, the increasing use of multifunctional enzymes has become a prominent trend in the industrial enzymes market as they catalyze at consecutive steps of a metabolic pathway, where the same polypeptide chain is situated. Food enzymes, such as amylase, pectinase, cellulase, protease, lipase, xylanase, arabinanase, chymosin, polygalacturonanace, glucosyltransferase, and beta-glucanase, have become indispensable in the food additives industry. Other examples of multifunctional enzymes include acetyl-CoA carboxylase (ACC), glutamine phosphoribosylpyrophosphate (PRPP) amidotransferase [GPAT], type I fatty acid synthase, carbamoyl-phosphate synthetase 2, dihydroorotase (CAD) protein, and aspartate transcarbamylase.
Currently, companies operating in the industrial enzymes market are involving in product launches and acquisitions to consolidate their position. For instance, in December 2019, Seqens SAS introduced the 7 SEQENZYM kits for molecular synthesis transformations by the screening of enzymes and facilitating rapid assessment. Furthermore, in March 2021, Novozymes A/S completed the acquisition of the data science platform of Biota Technology Inc. to amplify its sales in the consumer health industry and embolden its microbiome R&D capabilities, which are focused on probiotic platforms.
The type segment of the industrial enzymes market is classified into carbohydrases, lipases, proteases, and polymerases. Among these, the carbohydrases category generated the highest revenue in 2020 due to the wide application base of this class of enzymes in the pharmaceuticals, food and beverages, and animal feed industries. Additionally, the cost-effectiveness and easy optimization and modification of the process performed by carbohydrases will augment their demand in the forthcoming years. Furthermore, these enzymes consume less time for performing a particular reaction.
Browse full report at: https://www.psmarketresearch.com/market-analysis/industrial-enzymes-market
Geographically, North America generated the highest revenue in the industrial enzymes market in 2020, and it is expected to retain its dominance throughout the forecast period. This can be primarily attributed to the surging technological advancements, soaring number of clinical trials to develop potent therapeutics, flourishing food and beverage processing sector, rising implementation of biofuel production policies, and increasing use of high-performance items such as biopolymers, biofuels, and processed food in the region.
Therefore, the soaring need for bioethanol and mounting demand for multifunctional enzymes will accelerate the market growth.
Market Size Breakdown by Segments
Based on Type
Carbohydrases
Proteases
Lipases
Polymerases
Based on Source
Microorganisms
Plants
Animals
Based on Application
Food & Beverage
Bioethanol
Detergent
Textile & Leather
Paper & Pulp
Wastewater Treatment
Animal Feed
Geographical Analysis
North America
Europe

Germany
France
U.K.
Italy
Spain

Asia-Pacific

Japan
China
India
Australia
South Korea

Latin America
Middle East and Africa

Saudi Arabia
South Africa
Browse Other Related Reports
Bioethanol Market – Globally, the North American bioethanol market generated the highest revenue in 2020, and it is expected to continue this trend throughout the forecast period.
Green Chemicals Market – According to P&S Intelligence, Europe accounted for the largest share in the green chemicals market in 2020, and it is expected to maintain its dominance throughout the forecast period.
Media Contact
Company Name: P&S Intelligence
Contact Person: Abhishek
Email: Send Email
Phone: +918887787886
Address:Noida Sector 2
City: Noida
State: UP
Country: India
Website: https://www.psmarketresearch.com/market-analysis/industrial-enzymes-market