Introducing Cela Quest: Celadon Coin's Brand New Game That Just Went Live
Blockchain-based games have been on the rise for well over a year now, ever since the metaverse became a major trend in the crypto industry. Since then, many projects have attempted to come up with their own games featuring different aspects that would provide incentives to the players or make the game more interesting.
All of this makes the blockchain gaming industry highly competitive, and new, emerging projects have to ensure that their games will stand out from the rest while the crypto community is trying to decide what crypto to buy. That is exactly what a project called Celadon Coin did when it launched its brand-new PvP game, Cela Quest.
What is Celadon Coin?
Before we get to the game itself, a quick word about Celadon Coin.
Celadon is a project that aims to become the leading gaming platform, featuring its native cryptocurrency, the CELA token, which is to be used for P2E games. The project liked the idea of NFTs and P2E – Play to earn games that have been dominating the crypto industry for over a year, which is why it created Cela Quest.
Before the game, the project launched an NFT marketplace and an NFT collection during Phase 1 of development, followed by the launch of the game that allows users to earn rewards by playing games in Phase 2. There is also Phase 3, which will see the launch of a BEP20 crypto wallet, including exchange.
For now, however, our attention is on the game Cela Quest, which just went live, and is available on the Celadon Coin's website for free download and play.
What is Cela Quest all about?
Cela Quest is a P2E game, meaning that players can earn cryptocurrencies by playing it. The token that they receive in exchange will, of course, be CELA, the project's native cryptocurrency.
This is a competitive multiplayer action fighting game, which allows users to enter the game together and then competes against one another. By winning the game, users would become eligible to receive CELA tokens, which they can then use to purchase more weapons, new characters, other equipment, and alike.
How to set up the game?
The game is very easy to set up, and all you need to do is go to website and download it from the home page. After downloading the game, you can start playing immediately, as there is no need to install anything.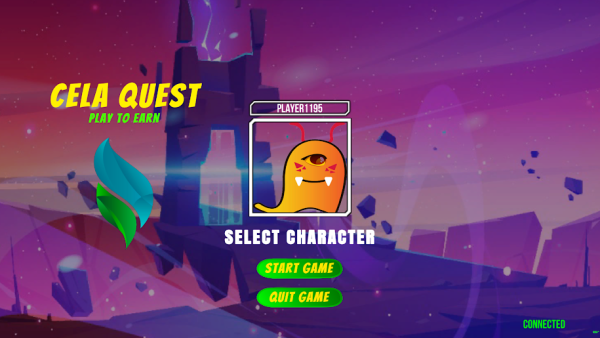 You will, however, need to have a MetaMask wallet in order to connect it to the game and have a place to store the coins that you win or purchase. The coins can then be exchanged for other cryptocurrencies in different crypto exchanges or used for additional purchases in-game.
How to play?
The game has very simple controls, and you can move around by using the arrow keys or WASD keys. The space bar is used for jumping, the left mouse button is for shooting, and the right mouse button is for melee attacks.
You can also use the right shift or the mouse wheel to scroll to bombs, which are also very useful weapons. As for the aim, all you need to do is move your mouse and you will start aiming in different directions toward the cursor.
Before you can start, however, you first need an NFT character. You can purchase stronger characters, which will boost your earning potential and increase your chances of winning. This can be done by registering for the very first time, which will grant you a free NFT character and earn thrilling incentives up to x20.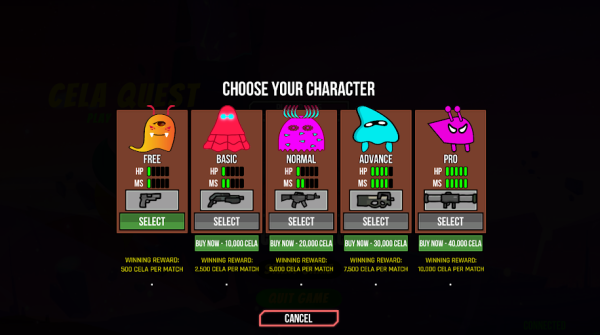 Once you have your character selected, it will be time to select a level and establish or join a room for you and your friends. You can have up to 8 players per room, and there are several beautifully designed levels that you and your friends can use as a battlefield.
You can also play the game against bots, which can be quite useful if you like your game to have more players or if you wish to play on your own and practice.
Once you finally start the game, you will see floating platforms to which you can jump which usually feature some piece of equipment or a weapon that you can use. In the bottom-right corner, you will see how many bullets you have for the currently equipped weapon, as well as how many bombs you have in your inventory. In the upper-right corner, there is a leader board for the players within the room, and at the middle-top section of the screen, you will see the timer.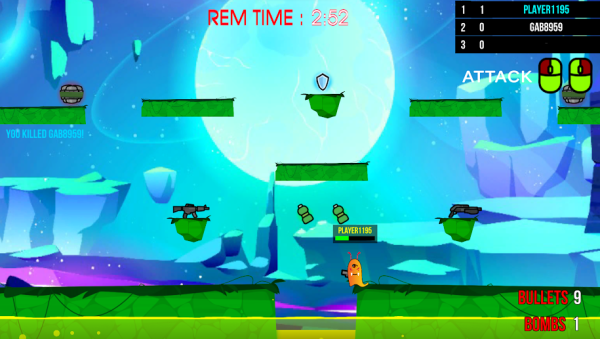 The idea is to fight other players and/or bots until the countdown runs out. After that, the player that had the most kills – wins. You can keep track of the events in the game on the left side of the screen, where you will receive notifications about who killed who, and the progress will also show on the leader board.
Above each character, players will have a box featuring their name and health bar, which gets reduced each time when you get shot and refilled when you collect bottles floating in the air. All weapons and gear will spawn after brief intervals, and each time when you get killed, there will be a few seconds-long cool down before you are spawned again and can continue the match.
The game play itself is very smooth, and the game is quite enjoyable and addicting, whether you are playing on your own against the bots or with friends.
Conclusion
Play To Earn Games won the crypto industry over as soon as it became aware of them, with games becoming better and better all the time. Cela Quest is no exception, and its simplicity and easy setup will allow everyone to join and start playing it, as it requires no technical knowledge or prior experience to do it all within seconds. After that, all you need to do is keep playing, and as you become better at it, it won't be long before you start getting rewards.
Media Contact
Company Name: Celadon Coin Inc
Contact Person: Adam Widelka
Email: Send Email
Country: United States
Website: www.celadoncoin.com