Luis Antonio Lopez aka El Mimoso is set to perform on Feb 12 in Aquilla, Texas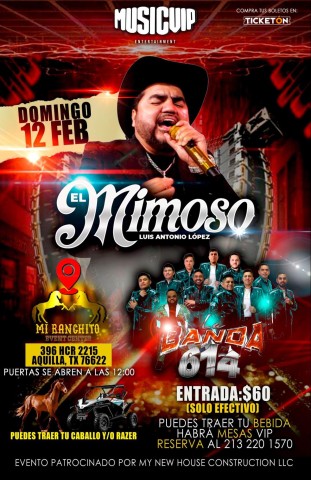 El Mimoso, also known as Luis Antonio Lopez, is set to perform on February 12th at 396 County RD 2215 in Aquilla, Texas. This one-of-a-kind event will take place at a ranch, providing attendees with the chance to bring their beer, horse, and ATV for an unparalleled, authentic experience that will bring an unforgettable night of music, fun, and entertainment.
El Mimoso is one of the most celebrated and respected artists in the regional Mexican music scene. He has released several hit songs, such as "El Rey del Corrido" and "El Rey del Acordeon," which have become anthems in the regional Mexican music genre. His music is a blend of traditional Mexican folk and modern influences that have made him a favorite among fans of all ages. His ability to keep the traditional sound of regional Mexican music while incorporating modern elements makes him a unique and versatile artist.
This performance is a rare opportunity for fans to see El Mimoso in a relaxed, outdoor setting, surrounded by the picturesque Texas landscape. The ranch setting will provide a unique and intimate atmosphere for fans to enjoy his music in a tranquil environment. This is an event that is perfect for fans of regional Mexican music, as well as those who are looking for a unique and exciting experience.
Tickets for the event are expected to sell quickly, so fans are encouraged to purchase them in advance. Don't miss out on this chance to see El Mimoso live in concert, performing his hit songs and entertaining the crowd with his unique style of music. This concert will not be missed and will be an unforgettable night of music, fun, and entertainment.
For more information about the event and to purchase tickets, please visit Ticketon.com
Media Contact
Contact Person: Sergio Tapia
Email: Send Email
Phone: +1 213-220-1570
City: Aquilla
State: TX
Country: United States
Website: facebook.com/miranchitoaquilla